So…there's no minor leagues to cover this year. No stats or box scores to cover. Probably no scouting reports. So…what are we going to do with the Prospect Round-Up this year?
Every Monday, I'll have scoured reports over the previous week for any news or notes that involve the prospects, whether they are in the Alternate Camp or not, and collect the best for you to read, review, and hopefully watch.
Wait, so who is in this Alternate Training Camp, anyway?
Alternate Camp – Live, on Facebook!
On Friday, the Sacramento River Cats began streaming the Alternate Camp activities on Facebook Live!
Check it out if you have Facebook with this link!
Um…yeah. So for now, the camera is up on the promenade to catch all of the field, which basically ends up looking like ants playing catch. But you can't blame them, it's not like they have the equipment to do what would be a more sophisticated broadcast. They probably don't have the guys who know how to do it.
But, it's better than nothing, and I'm sure the Cats will look to improve the situation. The team also said they'd be posting a schedule of camp activities soon. Hopefully, we'll get some decent scrimmage action of all the kids we are curious about.
That said, the River Cats are definitely trying to at least make a little money off of this situation…
Yep, the River Cats are selling this shirt, which you can pre-order at this link. I won't quibble with the mis-usage of Taxi Squad…I did it myself. The Taxi Squad are the three guys a MLB team takes with them on road trips for roster swaps. Sacramento is hosting the Alternate Training Camp. But that doesn't fit as well on a t-shirt.
Alternate Camp Details from Sacramento
Some fans are thinking that what's going on in Sacramento is essentially like being in Triple-A with the River Cats, but that is not the case. The biggest difference is, of course, no games. There will be scrimmages against themselves, but they are not allowed to face other squads. And media access will be limited at best.
Mark Sanchez of KNBR had a great write-up about the Alternate Camp and what Sacramento is doing to set things up. I'm particularly amused about this headline about the beer garden…
I'd also like to point out that Sanchez was a guest with my good friend Roger Munter on the There R Giants Podcast, which is definitely worth listening to when you get a chance.
As of yet, no media has gotten access to the camp, though. And non-team scouts are unlikely to get in there. Which means, any views or access to the top minor leaguers who are in camp will be very, very controlled by the Giants. This will definitely be interesting to see how sites like Baseball America and Fangraphs can rank and report on prospects this year and going into next year (which I hope will be a more normal year).
Heliot Ramos – Leg Infection
The big bummer of a headline is that Ramos has a leg infection that has taken him out of action.
This news came out on July 18th. We have received no news since. Nothing on what the leg infection is, or what the timeline is. Again, the alternate camp might be a bit of a black box when it comes to media, so it'll be interesting to see what comes out of the camp to see when and if he's back.
The Rise of Caleb
Without a lot of actual minor league news, one of the talks of this week was out of Major League camp, and Caleb Baragar making the not only the Opening Day roster, but his debut against the Dodgers, and getting the win. Oh, and beating an All-Star filled lineup in doing so.
Let's be honest, Baragar is not a guy that was on many people's radar before this season. He wasn't on the Top 30 prospects for the Giants by MLB Pipeline or Baseball America, or in the Top 37 by Fangraphs. He spent 2019 as a 25-year old mostly in Richmond starting games, and posted a 3.57 ERA overall between three levels in the season, his best since a 2.51 ERA in 2016 in the AZL.
So, what changed?
Matt Daniels, the Giants new Coordinator of Pitching Sciences, gave him some advice. Daniels came from the famous Driveline organization that many pitchers are using in the offseason.
Okay, this was just one game, but the level of difference in how people are viewing him from the end of last season and now, that really says something. Now, the 9th rounder is on the radar for everyone.
If you are watching the Giants farm system, this should give you some hope that the new data-driven system has some upside. Again, it's one game for one guy, but if more of these fringe guys can unlock something, it's nothing but good for the Giants and their prospects.
Dabo!
We might get some other things about prospects that aren't in camp coming from other, unusual sources, and one interesting bit came out of an independent training system about Giants 4th round pick RJ Dabovich.
That velocity and spin rate are pretty elite. This is just one pitch, as opposed to what would happen over a season, but it's a pretty impressive look.
One feeling that came from more than a few people of the Giants 2020 draft was that there were a few overdrafts to save money, including Dabovich, with money saved going to signing Kyle Harrison out of De La Salle high school in the third round. But this shows there might be some metrics behind this pick. And at least one person is a big fan:
Okay, that's some high praise, although I don't know the background of this poster. But he's not wrong, there might be something of a steal here if the metrics end up showing up on the field during games.
I wish we had more to go on to hope with than this, but this is what we've got. So hope away!
The Wrap-Up
Let's finish with some videos that we're getting of Giants prospects, being posted as they try to work out and stay in shape.
Okay, let's be blunt: If you're throwing 99 MPH, you're going to look a lot faster if you've got wavy locks of hair coming out from your cap. So, I hope you aren't a Yankee. What this all means, of course, is the most important part of surviving the quarantine is taking advantage of a quarantine haircut to make this happen.
Also, Cole Waites throws hard.
Meanwhile…
Luis Matos is probably the top Giants prospect not in the Alternate Camp, and he really opened eyes in the 2019 season.
But, look at the Luis Matos in that image, and compare him to this picture, from the day he signed two years ago.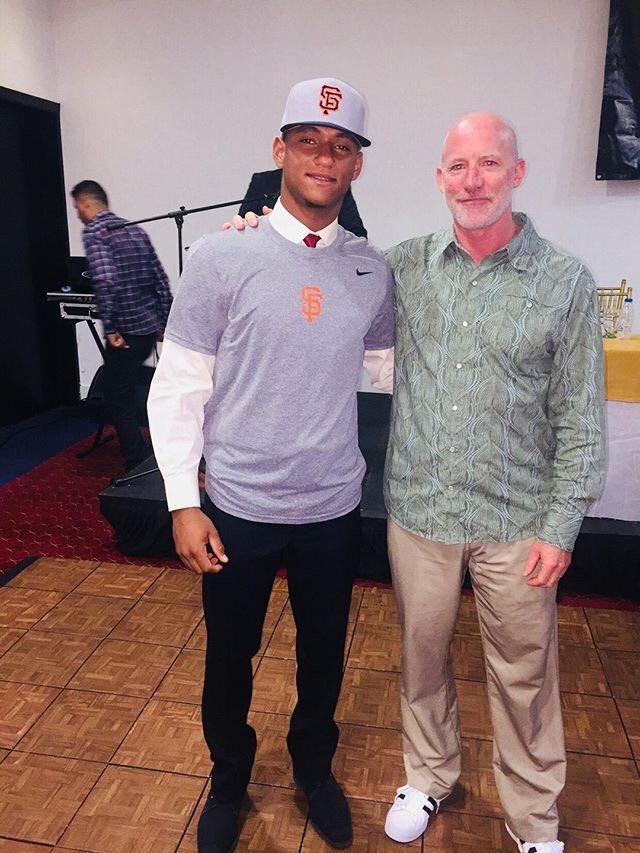 Originally tweeted by SFGiants (@SFGiants) on 07/02/2018.
It's hard to tell anything about a person's build from under a t-shirt over a dress shirt and tie, but he looks pretty wiry there. Obviously, he has put on some real muscle over these last two years.
Hopefully that's a good sign for a Future Giant.